CTFO was founded in 2015 by network marketers, Stuart Finger, Steve Finger and Michael Kahn. The vision of CTFO is to provide tools to empower people in business, health and serving others; demonstrating the Good News with quality, integrity and generosity.
Our Founders care and want to positively impact every aspect of your life:
In Business: By offering an affordable, accessible opportunity with a generous pay plan and a simple roadmap for success;
In Health: By promoting a healthy lifestyle; incorporating proper nutrition and quality products;
In Serving Others: By creating a culture of organizational, personal and community development;
In Quality: By providing products, customer service and associate support that actually work;
In Integrity: By operating in an honest and trustworthy manner to our employees, associates and customers;
In Generosity: By giving back a portion of our profits to those in need In Demonstrating the Good News: By following Gods Word, we operate in a life-giving and abundant environment, both corporately and individually.
CTFO provides expanding entrepreneurial opportunity and quality consumable products. We are a generous company – generous with charities, employees and associates. Our desire prosperity for all those involved with CTFO at all levels CTFO is a company with high integrity (as a corporate entity and as individuals).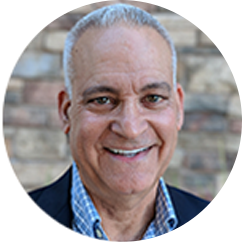 STEVE FINGER
Co-founder
Steve has over 35 years of experience in sales and marketing. His marketing endeavors have encompassed items and services that range from telecommunications to nutrition. Among his endeavors, he devised a way to market fashion watches at convenient stores which ordinarily did not carry such items. The company developed over 700 accounts in 5 states in one year. In 1996, Steve co-founded International Teamworks, Inc. with his brother, Stuart, which in turn gathered over 150,000 customers. In 2009 Steve formed Good News Roofing in the Austin Texas area with his son, Ian.
STUART FINGER
Founder
Stuart Finger, Founder of CTFO, has been a successful network marketer and company owner since 1989. He achieved a high ranking position in his first company and the top position in his second company, building teams of many thousands of people. He then owned and operated his own successful company for 18 years with tens of thousands of distributors and hundreds of thousands of customers. Stuart has also owned and operated multiple traditional businesses including restaurants and retail sales. His passion has always been helping others succeed.
MICHAEL KAHN
Co-founder
Michael has been a self-employed business owner for all of his adult life. He has owned multiple traditional businesses including leather goods manufacturing, financial exchange services, retail nutritional supplement sales, wholesale / resale bakery, and for the last 17 years, network marketing sales. He also has extensive knowledge and success in real estate development and sales. In all of his business ventures, Michael's passion has always been to create the highest level of professionalism, value and win/win scenarios for all involved.